Organization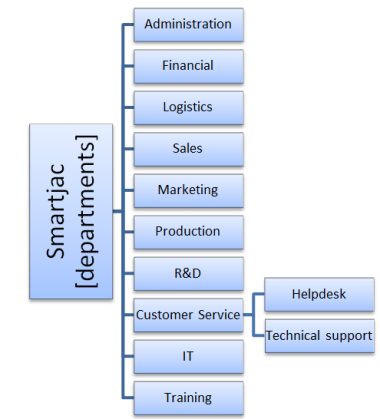 Production & Personalization
Highly automatized production environment, with
both graphical and electronical personalization, for RFID cards, smart cards
and SIM cards. Every card can be individually personalized in our fully
automatic system (ACPS), developed by Smartjac R&D department. 
Research & Development
Our R&D mainly develops systems and
software for our production center and for customers buying customized
automatic personalization systems. Commercial software is also in the process
to be launched during 2012. R&D is also our second level support.
Logistics
As we have customers in over 50 countries
around the world, one of the keys to success of our company is an efficient
Logistic department to guarantee the reliability of information and the correct
timing in the delivery of the goods and to study and resolve the different
demands of the clients.
Suppliers
We work with the leading manufacturers and
suppliers  to ensure the best quality and
security in the Identity market. 
Partners
Our partners are resellers or integrators in
the IT or Telecom market. Our sales and marketing programs, technical support
services, training tools and sales leads will help our partners to successfully
compete and  win business in today's
market.
"…, you proved to be one of my most trusted vendors, very professional and knowledgeable. I certainly will love to continue working with you for all my SIM hardware and software needs. Really appreciate your help!
Henry Shi – Public Wireless, Inc. "